Not the same old song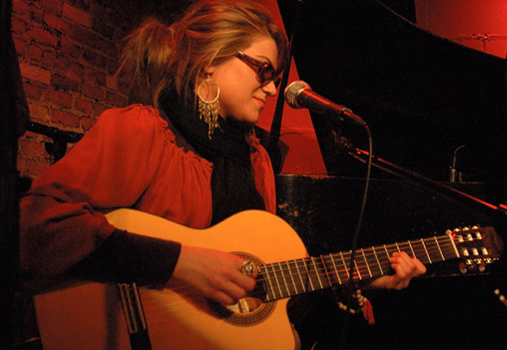 The rich, smooth voice that reached me through Pandora at home the other day made me stop in mid-step on the staircase. I had to know who it was. Jazz singer Melody Gardot, the screen on my phone read. And what a photo! Cool sunglasses, gorgeous and put together … she's got it made," I thought. "Watch out Diana Krall!" After more Gardot songs played on my speakers, I looked into her in more detail.
Turns out that Gardot is relatively home-grown, born in New Jersey and residing in Philly when not on the road. Another unexpected surprise emerged online – those smoky glasses weren't just a fashion statement, they are necessary equipment for Gardot's daily life. After being hit by a car while biking in 2003, Gardot was hospitalized having sustained extensive injuries, including traumatic brain injuries. These injuries include neural ones that require her to use dark sunglasses continuously. With those glasses (and incredible personal persistence) in hand, Gardot turned to music therapy during her rehabilitation and today champions the use of music for others in their rehabilitative process.
Humbled by Gardot's story, I sought to learn more about other artists using their musical talents to actively extend conversations about disability. In this search, I came across the compelling Can Do Musos website at http://www.candomusos.com. On this site, more than 200 international musicians with disabilities are featured, each with his or her own style of music and level of professional success. Together, these musicians represent an incredibly wide range of disabilities. Like Gardot, featured American violinist JoAnna Johnson openly discusses how various medical conditions have impacted her musical career, including Lupus SLE, and how they have helped her to inspire others with disabilities. The duo 4 Wheel City from New York City show up on this site demonstrating how hip-hop talents and wheelchairs combine to protest inaccessible spaces and street violence through music. Australia's world famous band Rudely Interrupted, well known for their international disability advocacy, is also featured on this website. Like Gardot, they've got a fantastic sound sure to delight.
Although energized by my "discovery" of Gardot and Can Do Musos, I know there are many more everyday musicians with disabilities out there making great tunes and demystifying what it means to have a disability. For the next few blogs, I will be sharing what I find as I venture farther into the world of music. In the meantime, please share the names of musicians or musical outlets you know who are putting a spotlight on disability awareness via comments below!