What is independent living to you?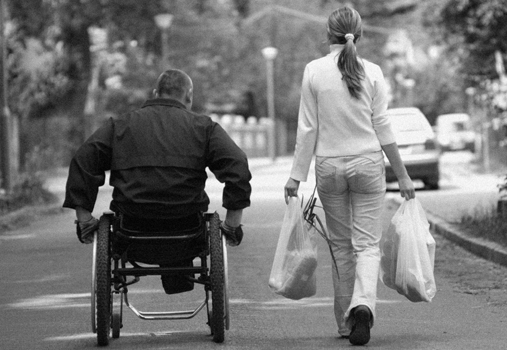 After leaving the hospital with my new injury 29 short years ago, I rolled into a Center for Independent Living (CIL) because I needed help finding Personal Care Assistants (PCA) so I could live independently in my own home.  I received no real help, just a very outdated list of phone numbers. I was both disappointed and bewildered. I was even more surprised to learn that providing this kind of help was not something that CILs are expected to do.
Two and a half decades later I'm sitting in my office with a newly injured quadriplegic. He just learned to breathe on his own again and just got out of rehabilitation. He wants to go to work and he asks me, "Who will take care of me?" I don't know what to say because the news isn't much better than it was 29 years ago. Insurance will only do so for so long and Medicaid waivers only help if you're destitute. There still aren't many options. One of the best options is to offer room and board as partial pay, especially if you need a live-in PCA. Good luck trying to find one. I explained this to the young man who had heard of the "Independent Living Movement" and he asked if they could help. Well…
In the Independent Living Movement, disabilities are not viewed as a problem to be solved. The problem is with society and how it deals (or doesn't deal) with people with disabilities. It's about the way the environment was designed without us in mind. Who can argue with that?
The Independent Living Movement is a philosophy that emphasizes consumer choice and control. It is said to be guided by and for people with disabilities based on the idea that we are the experts in what we need — can't argue with that either.
Advocacy, politics and policy are indeed very important. However, there is more to living independently than having a great system of advocacy out there over our heads. If we are to live, work and play in the community we need certain assistance (including assistants) and accommodations.  These are immediate needs and it's hard to see the big picture when you're stuck in bed with no personal care assistance. That can send a person right back to an institution.
What can be done?  I wish I could tell you to call your representative and senators and tell them to vote for House Bill "X," or Senate Bill "Y," but there's no pending legislation that I know of that's out there. Of course, you should still call or write your members of Congress (Go To: https://www.opencongress.org/people/zipcodelookup) and let them know what you're going through—A butterfly flaps its wings….  Contact your state and local representatives as well.
There is some research going on:
The Family Support Research and Training Center recently conducted a Family Support Dialogue. The Dialogue has concluded, but you can give the Center a call to see what they learned and what they're doing with it. Their contact information is at: http://fsrtc.ahslabs.uic.edu/research/needtoknow/
The Community Living Policy Center http://clpc.ucsf.edu/ housed at the Institute for Health & Aging of the University of California San Francisco has an active NIDILRR (now part of ACL) funded grant that aims to identify methods of improving the long-term services and support (LTSS) system in the states, improve data collection on community living policy, and develop a strategic plan for community living research. Check them out at http://clpc.ucsf.edu/.
Family support would be a last resort for me, but I welcome all research and I hope it can lead to policy changes that help people who need more help than you can imagine.  For instance: Perhaps CILs could keep an updated living national or regional data base of caregivers for people with disabilities who need them.  The Independent Living Movement could advocate for policy change and lobby politicians for funding to support this.
In your personal life, is the Independent Living Movement consistent with your needs for independent living?  How has the Independent Living Movement helped you to meet your goals of living independently in the community?